Combs Samantha – United States
Range
Cast Bronze
Samantha Combs' horses strongly recall the plastic representation "…of the air around things…" that became the stylistic feature in the Unique Forms of the continuity of space of Futurist memory. Space seems to curve with a sudden acceleration inside the bronze, giving rise to a sort of epiphany of the animal. Combs' horses are born, within a material with a primordial structure, clean.
Wilson Margot – Scotland
Herd Spirit: Sisters
Porcelain mounted on charcoal wood
Margot Wilson's sculptures emerge from the seabed like the diver who comes up for air after free diving. In their composure, they explode with perfect modelling, almost as if they were the work of a sculptor amazed at an animal he is seeing for the first time. The amazement that strikes the artist is the same that has struck us when we see such refined works, such as these ceramics. And, as we know, all things begin with amazement.
Pasqual Alberto – Italy
Vigoroso
Forged and torched iron on plexiglass base
The artist's concise description of these sculptures captures the heart of them: "Forged iron…" says Alberto Pasqual, naming the material that we see still glowing from his hands. Forging is a hot technique, as fascinating and dangerous as volcanic lava. And like lava, Pasqual's works emerge slowly but inexorably. And nothing can stop them in their race towards our impressions. And nothing could stop the pleasure we take in observing them. It's nice to think that forging is also a term used in the horse's trot, when the animal's hind feet strike its front ones.
Nicolai Paolo – Italy
Il cavallo di Selene scarificato dalla fatica
Recycled plastics 
We like to think that such apparently contemporary materials as resin or polycarbonate can give rise to almost classical forms such as Paolo Niccolai's sculptures. The merit lies in the intuition that decorative elements, which seem to emerge from the designs of Greek amphorae, are capable of ennobling such banal compounds as plastics. If the final effect is alienating on the one hand, on the other it takes us on an interesting visual journey that is by no means predictable.
Dumančić Hrvoje – Croatia
SPHERE
Mixed media
Dumancic's operation seems to be to hide precious material with poor material in order to increase its mystery. The gold is begging for its way, trying to make its way through the crowd of white that has invaded and seems to dominate it. Yet the sun that inhabits the most precious metal is ready for dawn, and all it needs is the blink of an eye to gain the upper hand. It is precisely this moment that the artist proposes to us: the boundary between the glow that will be and the glow that has not yet been traced.
Ferrari Sabrina – Italy 
Rebel
Directly modelled in wax by bronze casting
What is a bronze sculpture before it becomes metal? This seems to be what Sabrina Ferrari suggests when she presents her work to us. So what is it? It is the noble wax needed to mould the form, a docile and fragrant material that requires skilled hands to shape it. The sculptor in this case is a demiurge, a being endowed with a generating capacity, who warms with the heat of his own body what is devoid of a soul to give the sculpture its own.
Augusto Daniel Gallo – Argentina
Elite
Steel and welded iron
In Augusto Daniel Gallo's sculptures, beyond the frontier of form, we find the essence. Borders have entry and exit thresholds, they ask for belonging, they show the urgency of knowing whether one is on this side of a certain territory. Or beyond. Gallo's works stand on the ridge, the privileged observatory for narrating what we all see and at the same time telling us a hidden story, that is, everything that lies behind the scenes: scaffolding, structures, skeletons… And not knowing whether the finished form or its essence is more important, questions and fascinates us.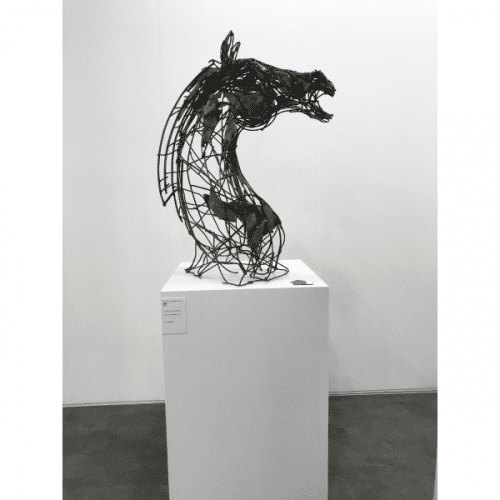 Critical texts by Andrea Ciresola.
ANDREA CIRESOLA (Verona, 1961) is a restorer of cultural heritage, an activity that has led him to deal with the conservation of important works of art such as the frescoes in Giorgione's house or the stone facing of the Arena in Verona. In the field of visual arts he has won prestigious international painting prizes, he is an illustrator of books and writes poetry and theatre texts. For fiction he has published, among other works, Una fragola per capello (Perosini editore, 2007) Vangog (Perosini editore, 2008, 2020) and Racconti per l'ora d'aria (Edizioni Giuseppe Laterza, 2019). As a populariser of contemporary art, he has held over four hundred public themed evenings.
Kep Italia supports Fieracavalli project dedicated to equestrian art and it is Main Sponsor Art & Cavallo 2021